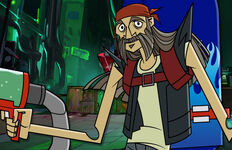 Jacob is one of the Burners and is the driver of Sasquatch. He is voiced by Brian-Doyle Murray.
Description
Edit
Don't let his age fool you, Jacob can keep up with the best of the Burners. Jacob used to be Kane's partner until the villain's megalomania drove him down to Motorcity, where he now serves as a voice of wisdom and experience for the Burners. His digs- a hip, retrofitted diner- is the Burners' favorite hangout, even if Jacob's always trying to serve up his latest "food" creation.
One of his pastime activities is looking at oil-cans.
Jacob used to work with Kane before Detroit Deluxe was built.
Ad blocker interference detected!
Wikia is a free-to-use site that makes money from advertising. We have a modified experience for viewers using ad blockers

Wikia is not accessible if you've made further modifications. Remove the custom ad blocker rule(s) and the page will load as expected.