Mutt
is
Mike Chilton
's car. She handles nicely and is extremely fast.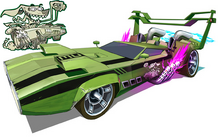 Her strongest weapon is the blastasaurus. She may be the fastest out of all the
Burners
' cars. Mike and Mutt have been through lots of tight situations together.
Mutt's color scheme is acid green with black stripes with several exhaust pipes on both sides.
Mutt's logo is a dog driving a car and holding black billiard ball in its paw.
Equipment
Edit
Nodding toy dog - Its a small, brown toy dog with green dog-collar that is placed at Mutt's control panel. It seems that Mike has an emotional connection with it.
Passenger seat - Mostly occupied by Chuck, it has a customized seat belt, is cushioned for better safety and can be ejected from the car when things get out of hand.
Mutt is addressed as if it was a female.

Mike very often calls Mutt a "girl".

The Duke of Detroit wants to own Mutt despite first having a negative impression of her.
Chuck is forbidden to drive Mutt.
In the unaired pilot episode, Mutt also contained a motorcycle which was used as a last resort escape.
The Duke of Detroit has an obsession with trying to win/steal Mutt from Mike.
Mutt is completely totaled in numerous episodes
Ad blocker interference detected!
Wikia is a free-to-use site that makes money from advertising. We have a modified experience for viewers using ad blockers

Wikia is not accessible if you've made further modifications. Remove the custom ad blocker rule(s) and the page will load as expected.